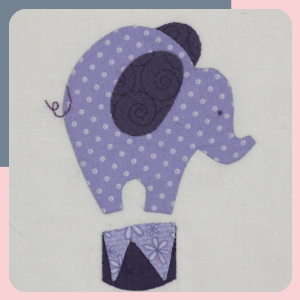 '
Im on a roll here so while I running hot here is block 4!
this weeks block is from Wenche Wolff Hatling http://www.northernquilts.no/ and this is my little version.
yes my little elephant is backwards because I lazily traced the shapes onto applique paper without reversing – I should/could have just traced on the shiny side but obviously didn't – and what does it matter? I at first thought I'd misaligned and decided my not so little elephant is doing star-jumps and will land very soon!
If you want to see my method of needleturn applique I have tutorials available here.
I have been so excited to see so many versions of my blocks popping up over the last week – and although some have struggled with new methods its great to see so many learning and achieving something new….
There have been many photos in the FB group and many on instagram.. Don't forget to share your block and tag me helen_stubbings (AND follow me) on IG to be in with a chance of winning your own EPP Iron on clamshells.
There are still four more monthly prizes up for grabs.
happy stitching
Helen
'