Let's Get Real Studio Tour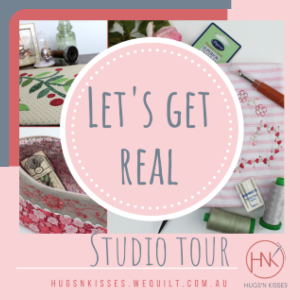 So Terry Atkinson and Gudrun Erla put the call out to us to show our 'real studios'- not perfectly cleaned, beautifully presented, out of a magazine images, but instant as they are now..
I considered that I really can't show you this – my studio is simply not fit for human eyes – I can't really show you how messy I am and what a state we are really in.. But then….. maybe it could make you feel better about yours – AND, maybe it may make me stick to my word and show you the new and improved version soon….
So first you can watch mine- please watch mine first as all the others will just make mine look even worse…
It is a little rushed (trying to keep them short and sweet) and very organic (sorry no expert videoing skills here today) but you'll get the picture of just what state we are in…and how and where I work.
Then pop on over to some of my friends tours and see how they work – it really is interesting….
Terry Atkinson | Atkinson Designs
Gudrun Erla | GE Quilt Designs
Annie Unrein | By Annie
Celine Perkins | Perkins Dry Goods
Deanne Eisenman | Snuggles Quilts
Debby Ritenbaugh Brown | Debbie Brown Quilts
Katy Cameron | The Littlest Thistle
Nancy Scott | Master Piece Quilting by Nancy Scott/
Pat A Sloan | Pat Sloan Voice of Quilting
Shari Butler | Doohikey Designs
Sheri Cifaldi-Morrill | Whole Circle Studio
Scott Hansen | Blue Nickels Studio
Lynn Carson Harris | Lynn Carson Harris Blog
Shelley Lynne Pederson Robson | The Quilted Forest
Keeping it real here….. Please don't judge me – less tidying time, more stitching time!
happy stitching
Hugs from Helen