The Splendidly Splendid Sampler Quilt
'
How exciting for me to be a part of the second series of the Splendid sampler – so I didn't make the cut for the first one – but hey, you all know about it now so are ready to roll this time..
How it works this time:
you can go to https://www.thesplendidsampler.com/
to download the first 20 blocks – they are going to be released on a Thursday (US time) every week. You just hit the download button and then save and print your pattern.
The first one – Quilt market by Alex Veronelli (of Aurifil thread fame) is already there.
and if you visit Alex at his blog https://auribuzz.wordpress.com/ you can join to WIN! a thread pack of Aurifil – who wouldn't want that?
Due to my recent studio flooding I didn't have access to much of my stash so I've chosen to use my recently released Basically Hugs purples fabrics – so my quilt is going to be quite 'lavender calm' which isn't such a bad thing with a very stressful year thus far…
here's my version
After the first 20 FREE blocks you will need to purchase the book which arrives in October – we are taking pre-orders for this for our Aussie friends and some have also asked us to get in the first book also. If you'd like to preorder they can be found on our website here.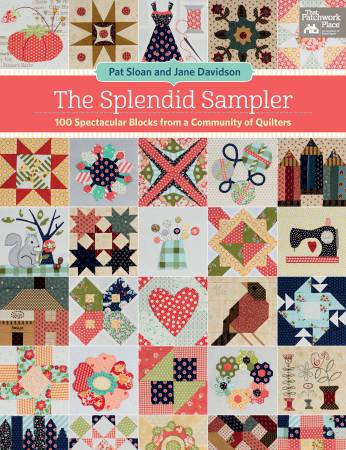 don't forget to also join the Facebook group and sew along and share with so many others around the world –that's the fun of it and it keeps us motivated to stay on track.
OR of course if you are more of an Instagrammer follow the hashtag #splendidsampler to watch everyones blocks – this time there is some really lovely photography efforts being posted too..
happy stitching – mine is coming VERY soon..
hugs
Helen
'